PlagScan provides you with 5 ways to analyse your report:
Plag Level

List of Matches

Interactive Browser Report

Document Highlighting (MS Word)

Collaborative Report
The Plag Level is a rough estimate of how much content within a document is plagiarized. In order to indicate if a document requires in-depth investigation, PlagScan calculates the percentage of plagiarized content. However Plag Level does not indicate if the content has been quoted and cited correctly.
View sample document with plagiarism report.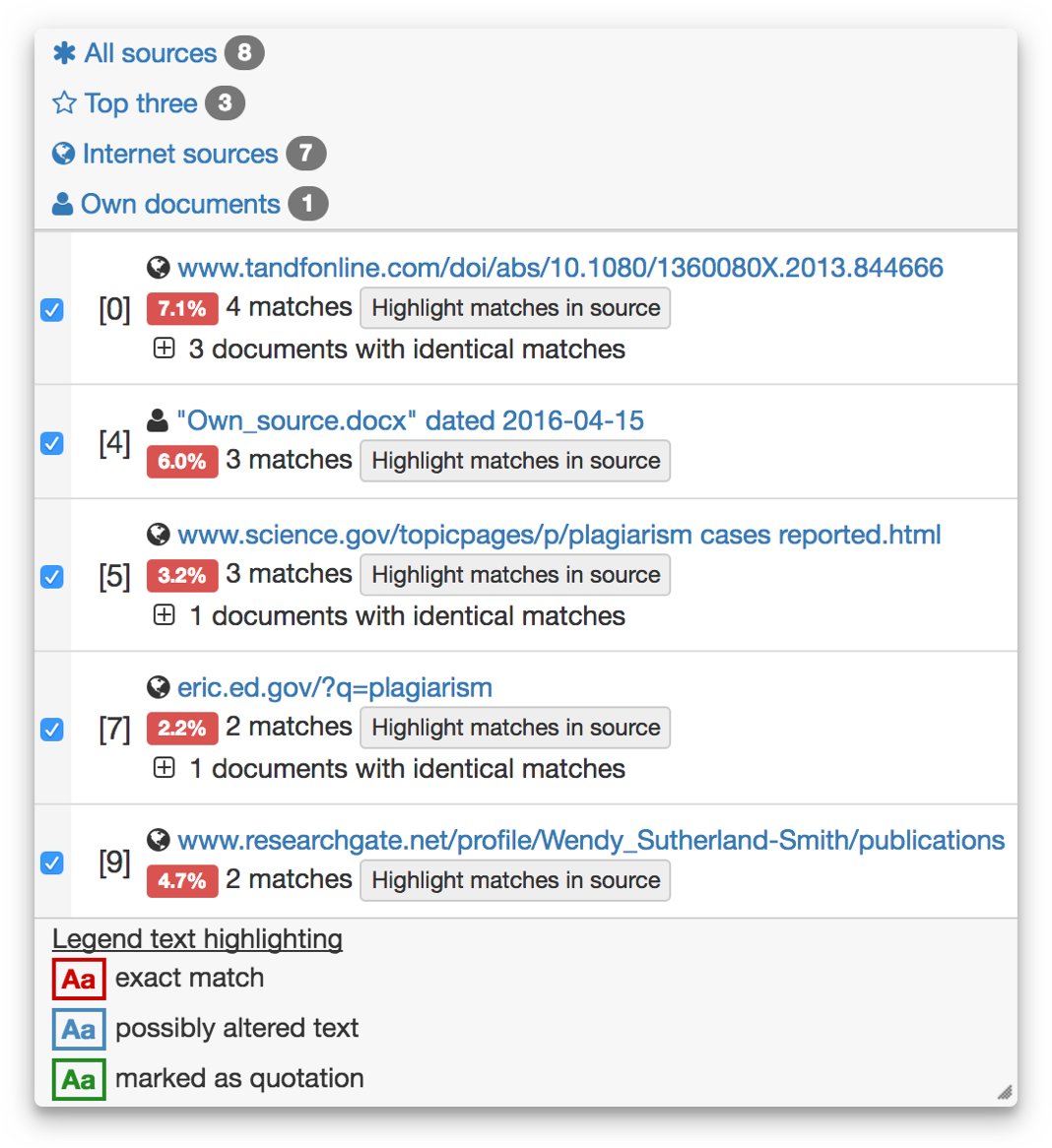 The list of matches displays all the potential plagiarism matches within the document and their corresponding sources. This enables you to quickly determine the passages the program has recognized as being potential plagiarism and the extent to which a source has been copied.
The example below shows four suspicious matches to a webpage: www.tandfonline.com. For a more extensive comparison with the source, click on highlight matches in source. This will open the indicated source and the suspicious matches can be compared directly.
Interactive Browser Reports
The interactive browser report enables you to view matches detected directly in the text. The potential matches from the plagiarism scan are highlighted in one of three colors, depending on their significance.
The interactive browser report also allows you to mark specific matches as citations or plagiarism, or delete them.
Use the arrow keys on your keyboard to navigate through the matches and their respective sources. The corresponding sources are displayed in the source display window above the text in bold lettering.
You can delete specific marks that have been placed in the text by PlagScan. Mark a passage as a citation if it has not been recognized, or mark a passage as plagiarized.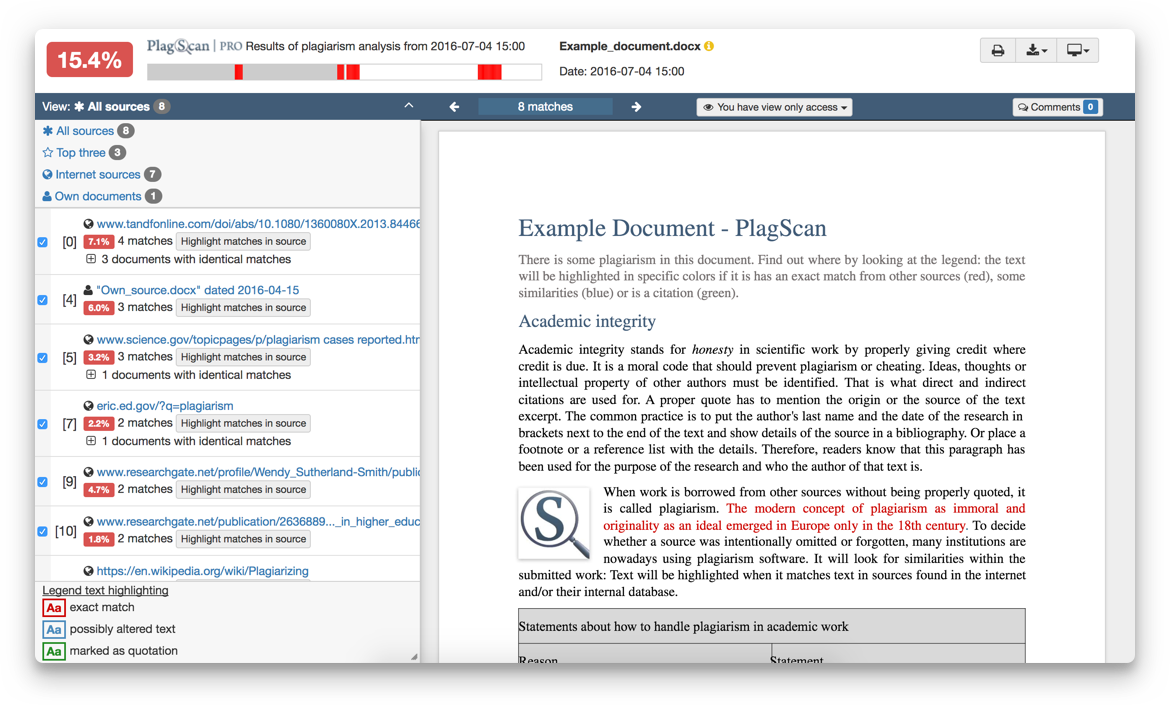 Document Highlighting (MS Word)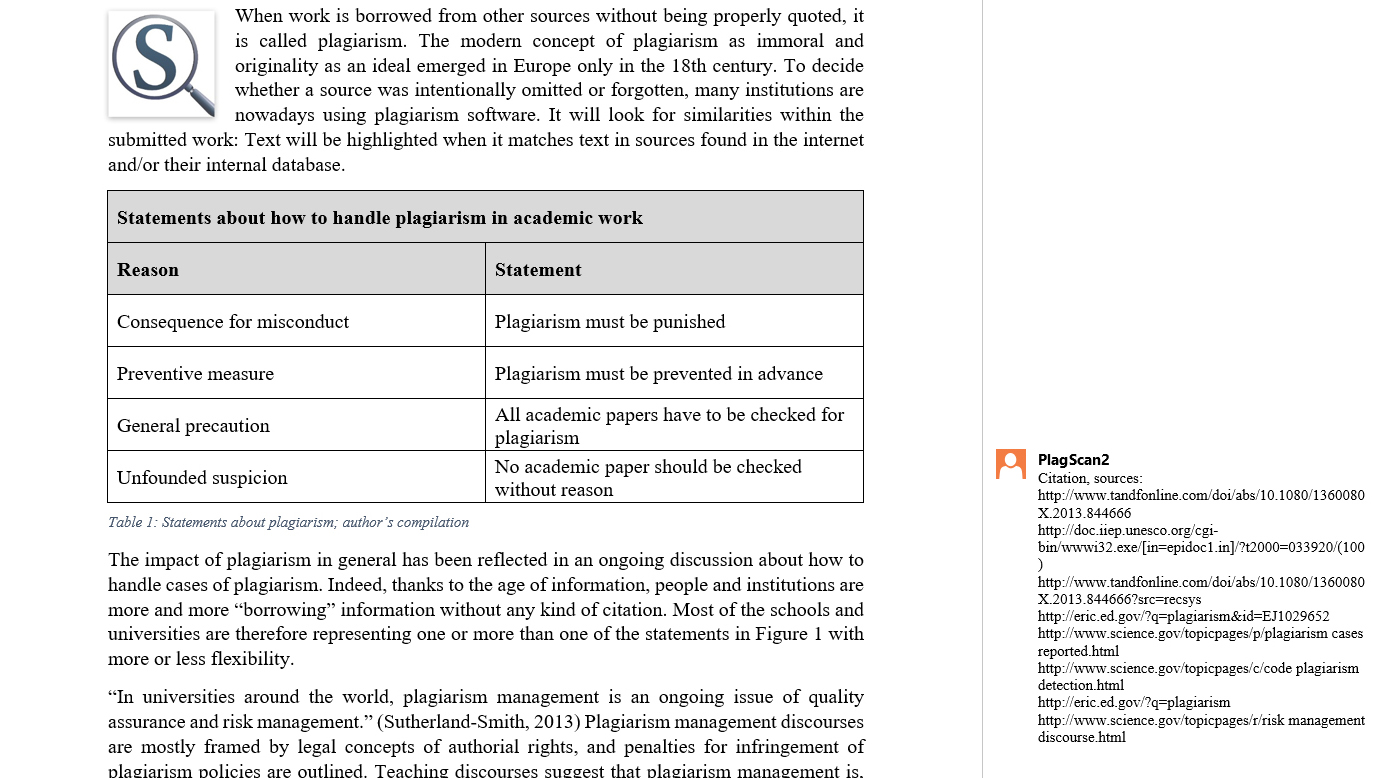 By clicking the button Word docx with annotations, PlagScan creates a Word document identical in content to your original document with the matches marked and annotated. The document highlights the potential matches and includes details about the sources.
This type of report offers an elegant and comfortable solution, as the original formatting of the document does not change. Furthermore, this kind of report saves you an enormous amount of time - simply view, detect and determine plagiarism while proofreading a hard copy printout or the document on your screen.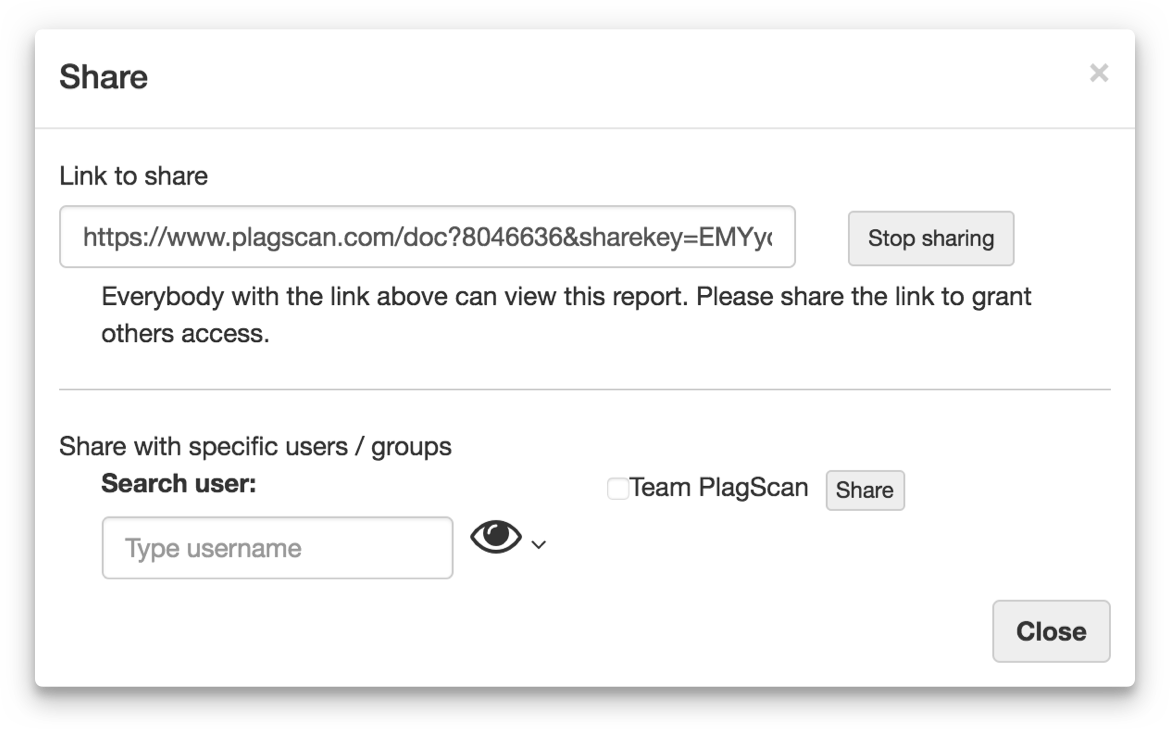 By clicking on the tool bar of the button "share", PlagScan users has the possibility to share their reports to:
Anyone who has the link: the user can copy the link and share it outside the PlagScan platform to anyone who has the link.
The whole organization
Single user of the organization
You can learn more about our reports with: