Be in Charge with your own Setup
PlagScan provides you with the tools to customize your organization settings – from the simplest to the most complex ones.
Emma, the assistant dean of the literature department contacted James to help the department with the setup of PlagScan. Emma was assigned to create an organization with 120 accounts. Each account represents a professor of the department. James gave Emma easy instructions on how to setup the software.
The dean had decided to apply one plagiarism checker for the entire department. Before that, some professors used different plagiarism checkers, while other professors checked for plagiarism manually. The goal was to introduce one standard to ensure quality and collaboration among faculty.
Step 1: Import professors and students of the department
Importing students has never been easier. Emma was able to select from the following options:
Enter names manually, if you want to set up just a few users
Import a datasheet
Set up the login through your general organization identification via Shibboleth

This is the easiest way because all administrative work happens at once within the central student administration and PlagScan can make use of it – no additional work for the administrator of the PlagScan organization account.

Shibboleth is an open-source single sign-on system. It allows people to sign into different systems (library, HR, LMS, plagiarism checking, etc.) using a single authentication.
This online service supports the privacy of personal data.
PlagScan is a member of the DFN-AAI and EduGAIN federations as a service provider. Read more here for more information
Step 2: Create the organization's structure within PlagScan
With the slim user administration, Emma created sub-departments for different disciplines and fields of study. Furthermore, she can also apply different usage rights for groups such as staff or students.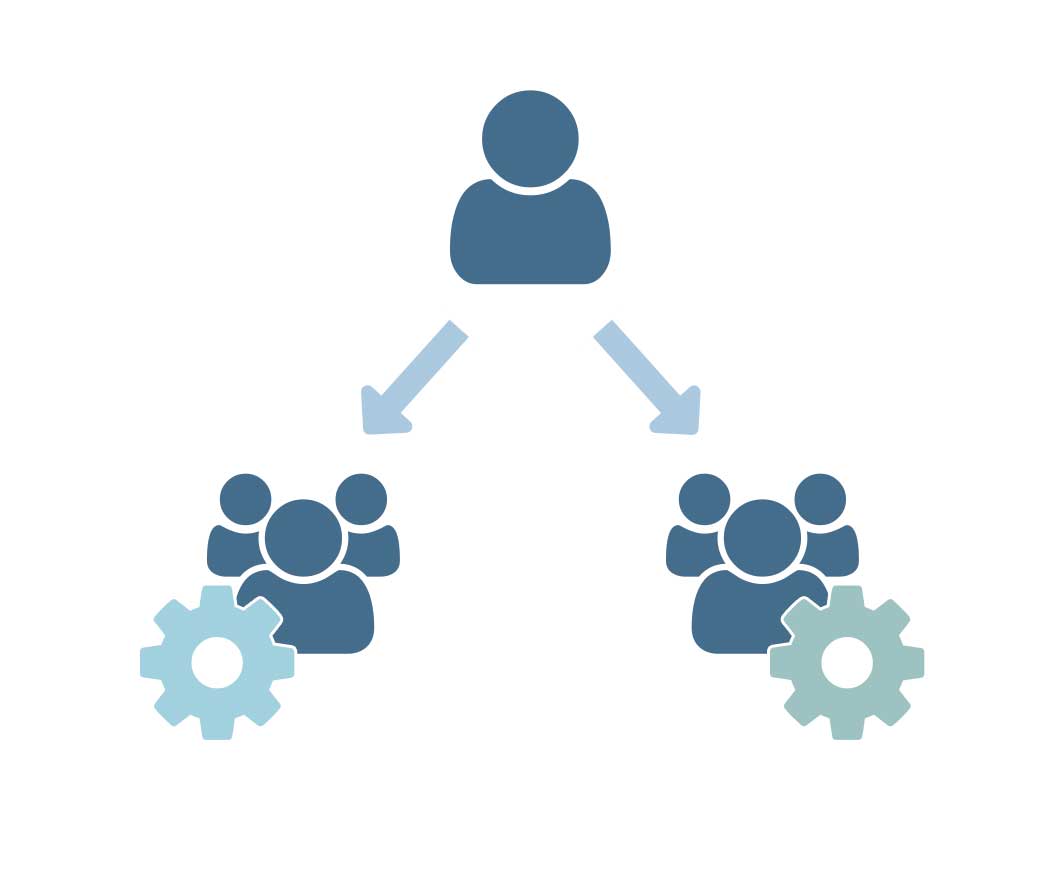 Step 3: Review the data policy default and customize where necessary
Emma wants to make sure her users' documents are safe from misconduct or abuse. For that, she sets up the following four main configurations:
Emma is an advocate of data security. She allows students to mark their document private or to delete them. Additionally, she requests each student to accept the terms and conditions to use the service. She also points out that the account may only be used by members of the paying organization. She respects all users' data. Read more here.
Communication is key and Emma wants to take some time to customize notifications for her students.
She creates an email text with the global policies that provide essential information to new users.
She writes a welcome text for the document manager interface. This text appears in a pop-up window when a professor uses the document manager for the first time.
She personalizes the portal page for submissions with a tailored message.
Below each submission, she adds information she considers as relevant for the students when they are submitting their document.
She treats the sub-department for graduates with different rights and organizes them in PlagScan in groups. Each sub-user accesses their unique account. Read more here.
Emma uses default settings for the undergraduate and graduates students because she wants to treat every student fairly.
For the dean's office, it is paramount to respect copyright and properly protect all of the submitted documents.
PlagScan's headquarters are in Germany along with our core software development and server hosting.
We safeguard copyright and act in accordance with the German Federal Data Protection Act.
Deleted files are removed completely.
PlagScan uses encrypted document transmission for maximum security.
We never share any documents with anyone - they belong to the literature department all along.
If you concede that data protection is important for your organization, you can learn more about our policies here.
Several months later, the IT department of the university reviewed the possibility to introduce an originality-checking tool for the entire university. As they heard about the success of PlagScan in the literature department, they considered offering the service to the entire campus. A central requirement for that is to be usable via the university's Learning Management System (LMS) for optimal integration in with existing workflows.
If you wish to learn about those integrations, click on the link below.
Try PlagScan Pro for free
Like the assistant dean, we support you to create a setup that suits your needs.