Welcome to Lily's Document Manager
Her workspace to manage all her students' papers in one place.
As a literature teacher, Lily checks her student's assignments with PlagScan. Today, she wants to analyze, James', one of her students' poems. She gave him this extra assignment to make up for copying the last exam.
In order to verify the document, she is uploading it to her document manager. Moreover, she gives us a tour of this workspace and explains how she uses it.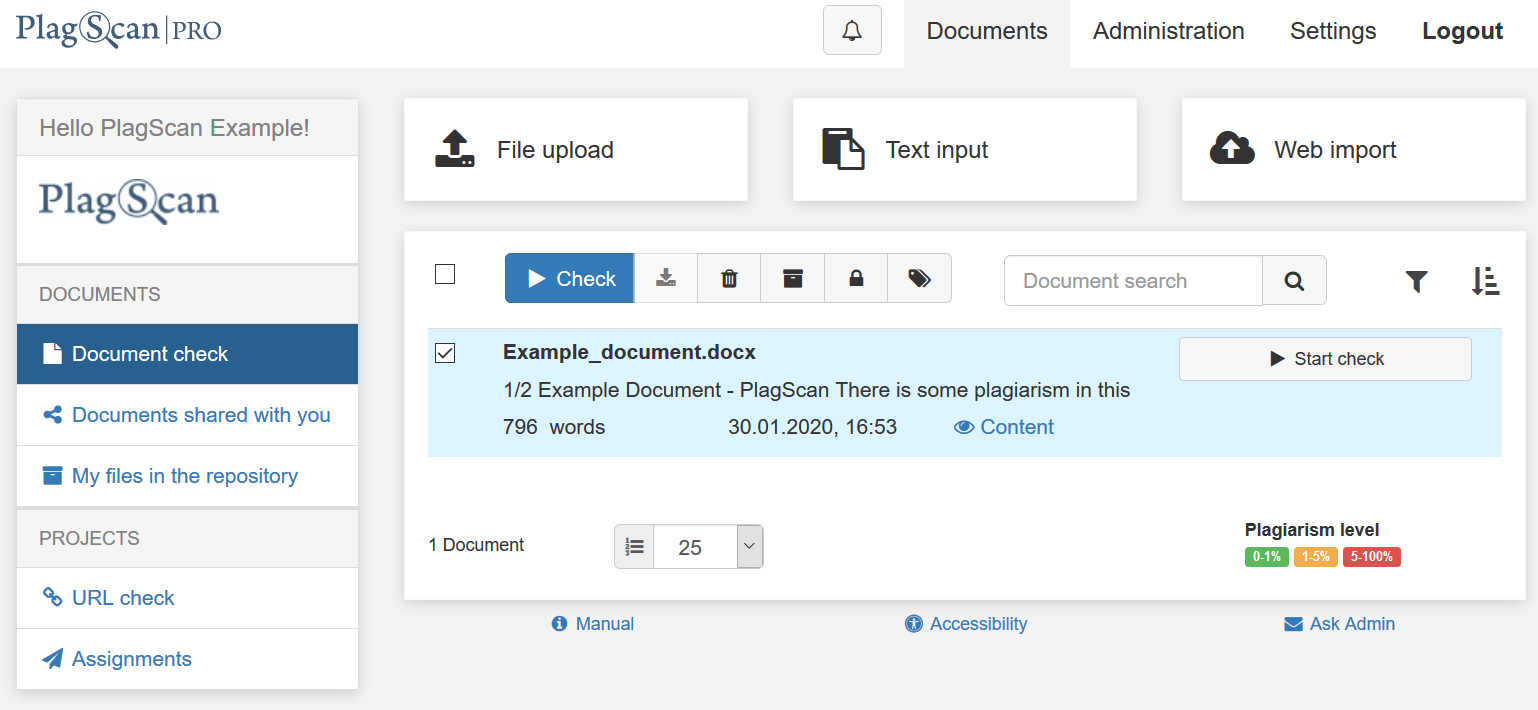 Effortless
She uploads her documents from any device and from everywhere – from her computer, at home, her network at school or her DropBox account. Sometimes she even uses Google Drive or Microsoft OneDrive. In other times, she simply just enters the text into the text input box.
The only option she has not tried yet is to verify a website by directly entering a URL, domain name or a complete sitemap through the URL checker. However, she understands this could come handy to verify the blog of the school. With this feature, she will be able to check if the articles from students and professors have been copied by someone else.
Comfortable
Lily can choose to receive notification emails directly into her inbox and can select to be informed about:
The completion of her analysis
Receiving reports
Receiving reports if the PlagLevel (percentage of duplicated content) is more than 10 percent
She chooses to receive her report per email and can read then conveniently right from her inbox. She can also download the reports from there.
Smart
PlagScan gives Lily different options to ease her busy work schedule. This way, she can focus on the important tasks.
No more manual plagiarism checking. The automatic check after uploading documents enables her to analyze all her documents for plagiarism instantly.
Her documents automatically move to her repository after three months.
Clear
She can find her students' assignments right away. With the labeling and archiving system, she gets her workspace as she likes it - well organized.
Interconnected
In some cases, Lily reviews the reports shared by other teachers. One time, another literature teacher had to review more than 60 reports for the final exams. He shared 30 reports with her to conveniently split the workload.
Her Documents - Her Privacy
Lily's documents are private. She only trusts services to access them with absolute discretion and confidentiality.
That's the case with PlagScan. We safeguard copyright and act in accordance with the German Federal Data Protection Act.
Deleted files are removed completely
Document transmission is encrypted for maximum security
No documents are shared with anyone
If you concede that data protection is important for managing your documents, you can learn more about our policies here.
Next Step: James' Plagiarism Report
James' plagiarism report is ready: The poem was an original – and a good one on top of that. Turns out James actually had a passion for writing!
Lily learned later that James had been writing poems regularly and participated in poetry slams for a while. Furthermore, James wanted to check a fellow poet's work he was suspicious of during the last slam session.
He consults his literature professor Lily who may be able to help him with the task. Subsequently, she introduces him to PlagScan's plagiarism software.
Like Lily, set up a free PlagScan account and test this feature!