PlagScan's Document Manager
Your workspace to manage all your students' papers in one place.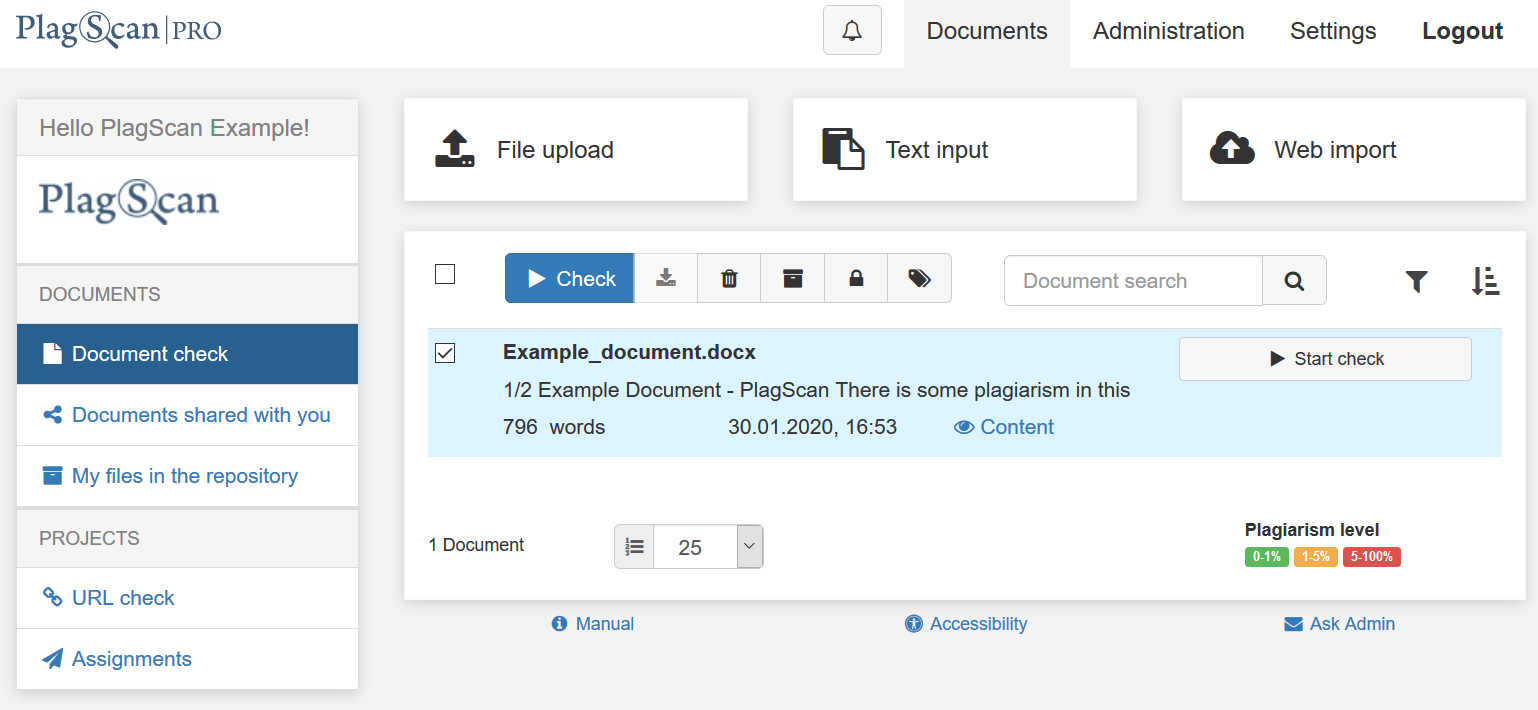 Effortless
Upload your documents from any device and from everywhere – from your computer, at home, your network at school or your cloud storage like Dropbox, Google Drive, Microsoft OneDrive or Box.com. You can also enter your text directly into the text input box. Check website content by entering a URL, domain name or a complete sitemap through the URL checker.
Comfortable
Stay informed by receiving notification emails or finished reports for download directly into your inbox and choose be informed about:
The completion of the analysis
Receiving reports
Receiving reports if the PlagLevel (percentage of duplicated content) is more than 10 percent
Smart
PlagScan gives you different options to ease your busy work schedule. This way, you can focus on the important tasks.
No more manual plagiarism checking. The automatic check after uploading documents enables you to analyze all your documents for plagiarism instantly.
Your documents automatically move to your repository after three months.
Clear
Find your students' assignments right away. With the labeling and archiving system you can keep your document manager well organized.
Interconnected
Easily share reports and documents with colleagues, split the workload or delegate the review process.
Your Documents - Your Privacy
Your documents are private and PlagScan treats them with absolute discretion and confidentiality.
We safeguard copyright and act in accordance with the German Federal Data Protection Act.
Deleted files are removed completely
Document transmission is encrypted for maximum security
No documents are shared with anyone
If you concede that data protection is important for managing your documents, you can learn more about our policies here.
Next Step: Your Plagiarism Report
PlagScan's plagiarism report provides a quick overview of possible plagiarized text via the percentage of the Plagiarism Level. It marks different types of text matches with colored highlighting while keeping the original formatting and lists all the sources for a thorough review.
You can set up a free PlagScan account and test this feature!