The Plagiarism Level helps you to immediately identify the percentage of matched text in a document. A complete list of sources provides you with an overview of where the original content of your document comes from and enables you to compare it side-by-side. We highlight all the matches between your document and all our sources, including the web and your archive. You can collaborate on the report leaving annotations and move simply from one match to the other.
Manage access for every user individually.
Set up as many users as you wish inside your account to guarantee individual PlagScan access. Each user can be of full rights or restricted in its possibilities.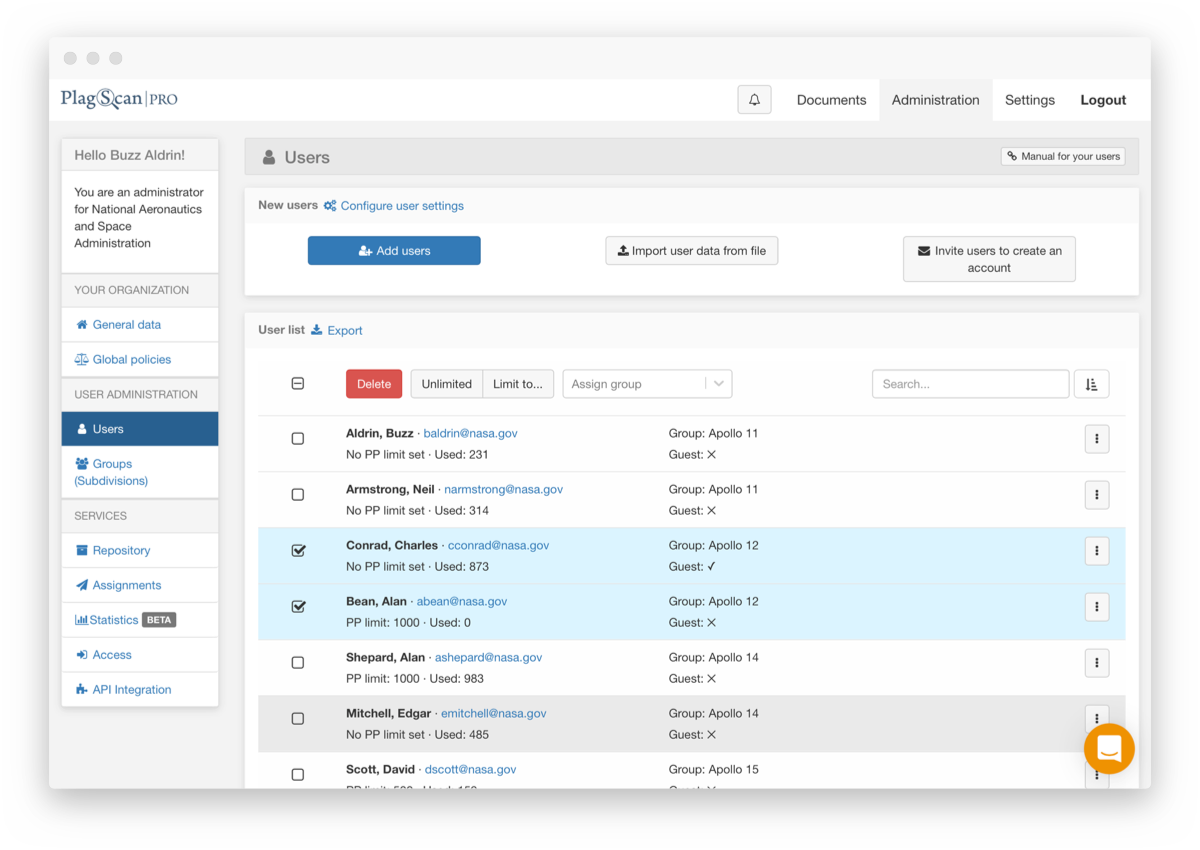 Specify access rights according to your policies.
The Global Policies include options which are binding for all users in your organization. The administrator can set policies in regards to the repository, user permissions, user administration and legal matters for plagiarism checking.
Keep full control of your data.
Privacy and legal compliance are top priorities at PlagScan. We only collect data for the purpose of providing PlagScan's services to you and limit the data collection strictly to the purpose of the provided service. We treat your documents with absolute confidentiality and will never grant access to others without your permission. You remain in full control of your personal data at all times and decide when and if you share or delete your data and documents.
Custom Integrations within your system.
PlagScan is used by organizations across many different fields. Simple document analysis to an entire submission workflow integration, PlagScan can be integrated into your environment. Consult our documentation page to develop your own integration.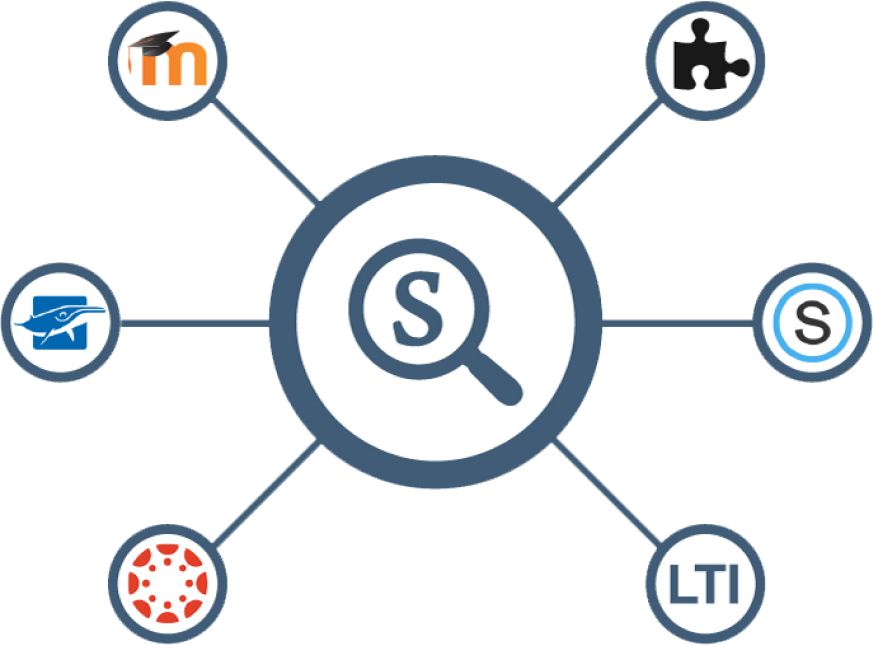 Manage and access your documents anytime.
The Repository helps to organize your document manager. Archived documents can be used for plagiarism checking institutionally wide by allowing users from your organization to check against the content of the repository.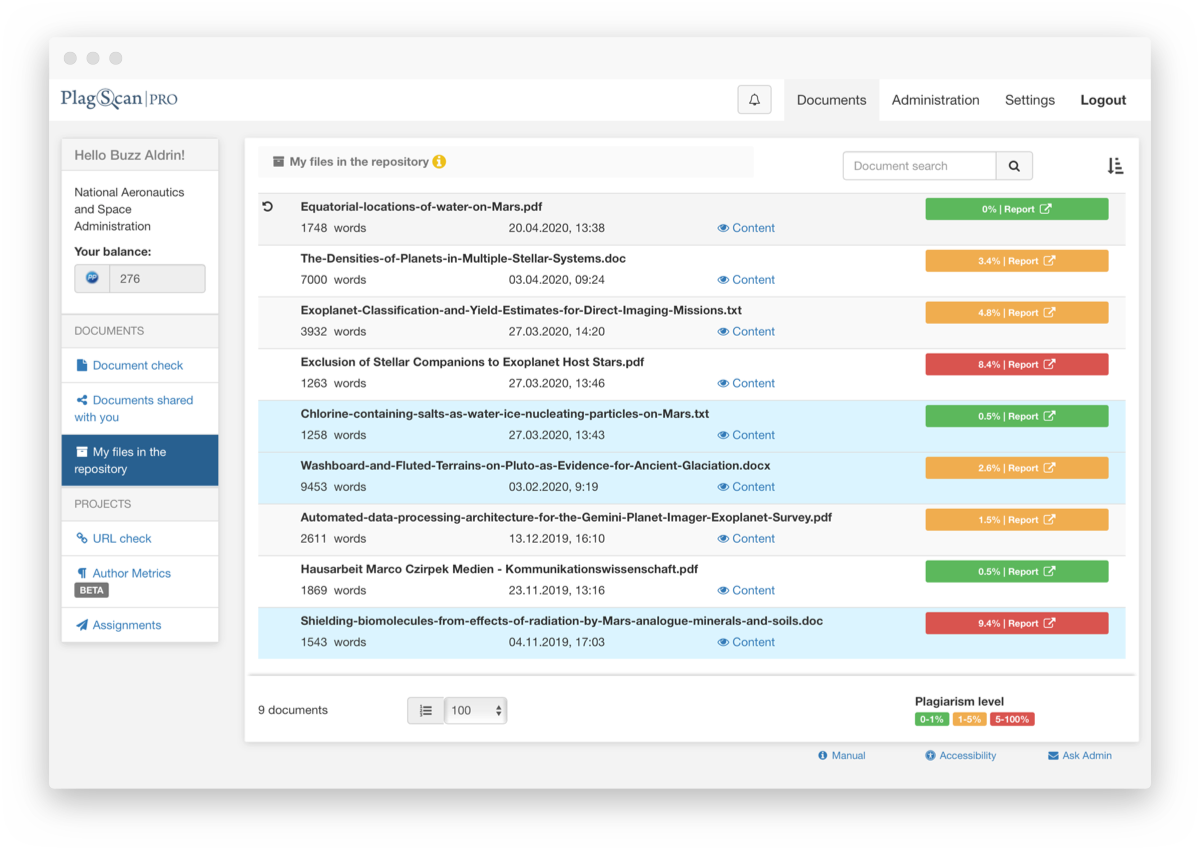 Install PlagScan locally on your system.
We exclusively offer the installation of our software as an on-premise solution locally on your server. With this solution, documents never leave your organization's network and your users can access PlagScan locally via your organization's intranet, which ensures absolute legal compliance and data integrity.
Easy checking. Easier pricing.
From lone website owners to massive content producers, we offer different pricing options for different types of customers. Pick the plan that best suits your needs. If you are unsure about which option is right for you, feel free to contact us – we will be happy to assist.
As an enterprise, you are especially interested in finding a reliable partner who can provide an effective premium plagiarism search solution?