The PlagLevel helps you to immediately identify the percentage of matched text in a document. Our Source List provides you with an overview of where the content of your document matches to. All found matches between your document and related sources are highlighted on the document. You can easily navigate the full report and jump from one matched section to the other by using the PlagBar. You also have the ability to make and reply to comments directly on the report.
Ghostwriting Detection and Stylometry Analysis.
Our tool offers the option to detect differences in writing styles. By analyzing different writing style measurements and patterns, you can easily compare the writing style in a peer-group or previously submitted documents by the same writer.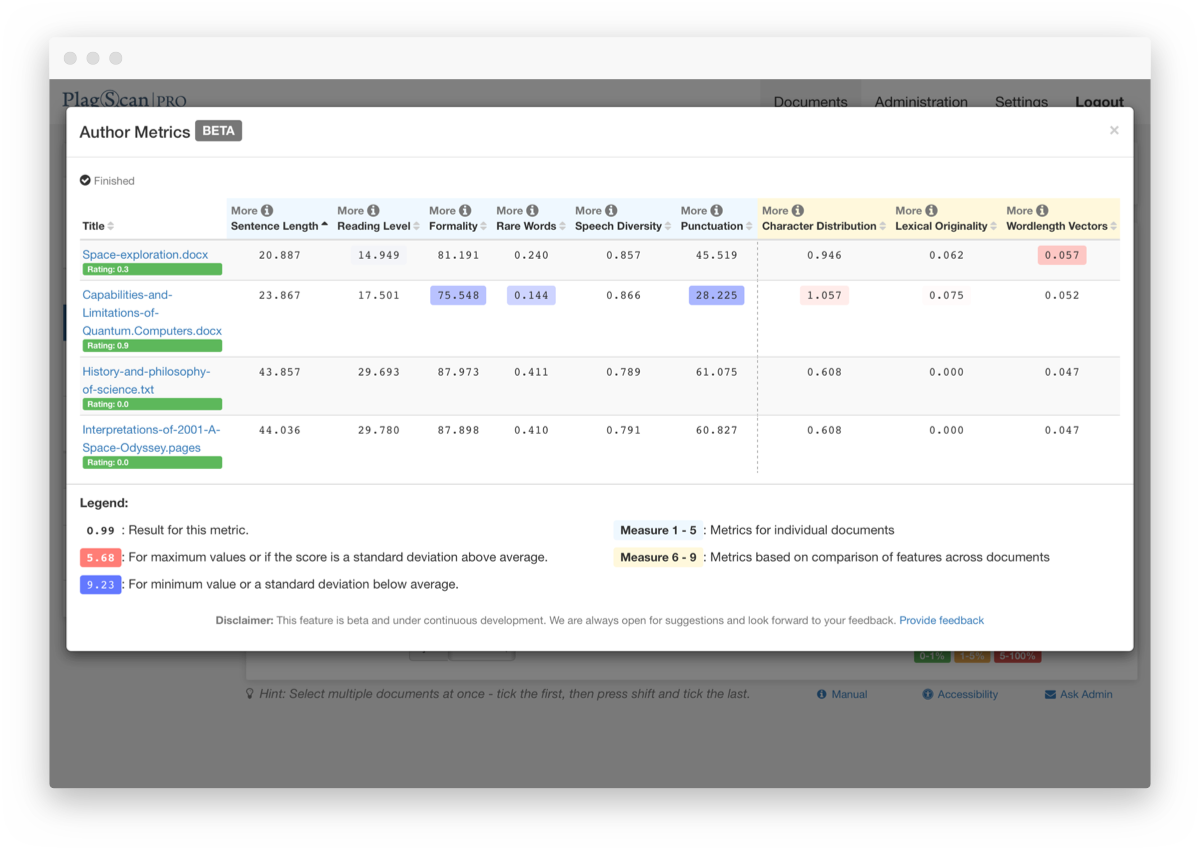 We offer Author Metrics to assess and evaluate documents from a different perspective. The software is used to verify the authorship and helps to expose falsely claimed authorship and commissioned work (by family members, friends or ghostwriters). Author Metrics is a tool to identify students who stand out and is useful in identifying differences in writing style. This objective evaluation criteria gives you the possibility to optimize your evaluation process.
Integrate PlagScan into your System.
You can easily integrate PlagScan into any Learning Management System (LMS) such as Moodle, Canvas and many others. Import your documents directly from Google Drive, Dropbox, OneDrive, Box.com or your computer.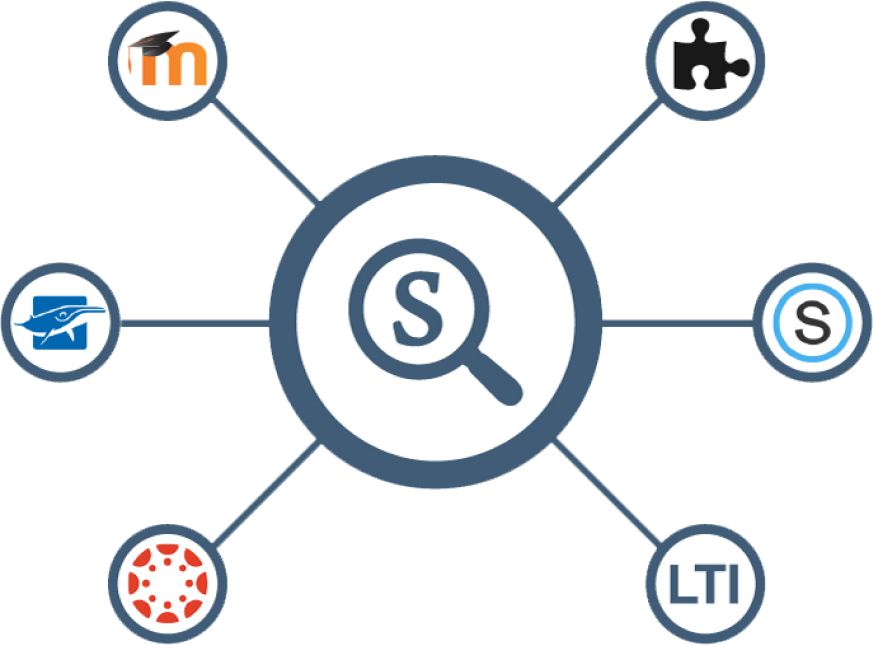 Import and manage accounts according to your requirements.
Import Users by email or using a spreadsheet for a quick upload or set up the login through your general organization identification via Shibboleth. Organize them in groups and manage each one with their unique settings and policies. Special Student Accounts may be set up to either including self-checks or not.
Assign, collect, feedback – all in the same place.
Assignments is a convenient method for instructors to create a task, collect students' documents digitally and evaluate their submissions automatically. The comment function allows a direct method to communicate inside the report related to the marked text passage.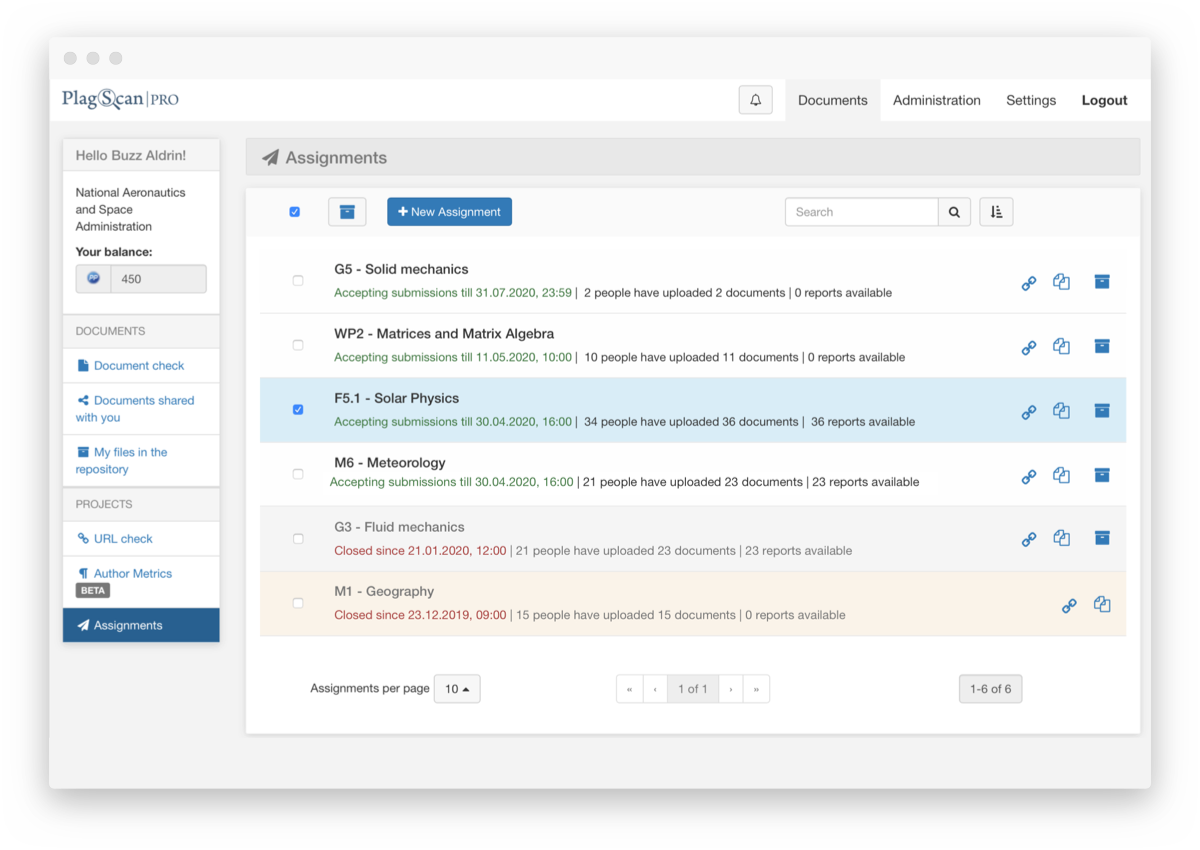 Manage your documents anytime.
The Repository helps to organize your document manager. Archived documents can be used for plagiarism checking institutionally wide by allowing users from your organization to check against the content of the repository.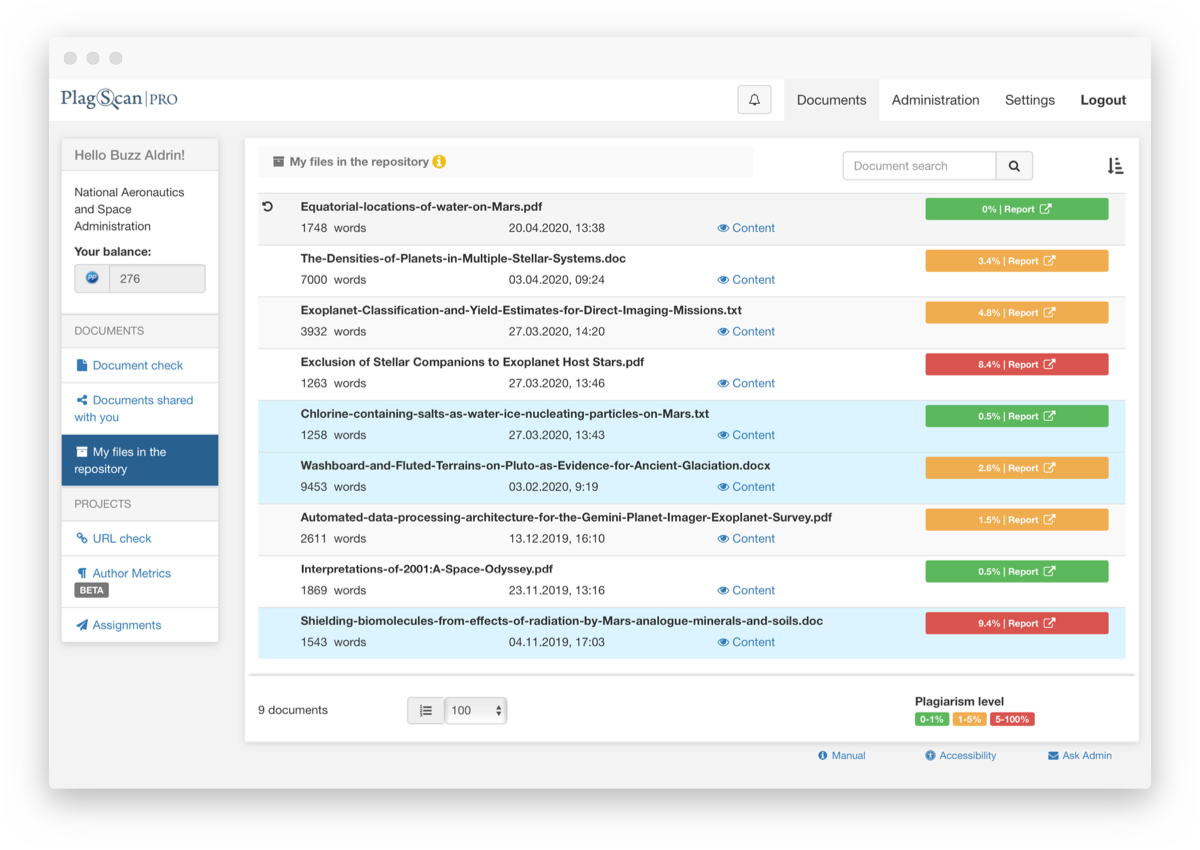 Identify plagiarism in translations.
PlagScan is currently working on a text matching solution to detect corresponding content that has been translated, more commonly known as translation plagiarism. The algorithm compares the text from the document with the databases available in the most widely spoken languages out there.
Keep full control of your data.
We never share your data with third parties. This means, for example, that if you submit a draft as a student to check it for plagiarism, your university or publishing house will not identify your previously submitted draft as a plagiarism source when they conduct their own plagiarism investigation. You remain in full control of your personal data at all times and decide when and if you share or delete your data and documents.
Easy checking. Easier pricing.
Our long-term experience with customers in the education sector has helped us develop the perfect solution for your needs, with many optional features to accommodate all your requirements.